I'm just going to go ahead and say it… I am a big ole sentimental junkie who keeps strange things like movie ticket stubs, old letters, newspaper clippings, and receipts.
For some reason I find comfort in collecting everyday, normal, no real purpose , things. Each of my beloved items are stored in an old shoe box that is treated more like houses the Crown Jewels rather then sentimental junk.
The first bible that was my very own.
I remember reading it and soaking in the words. It is worn and fragile now, but I love looking back at the notes I wrote in it at such an early age. It helps me see just how much I have grown in my faith and just how FAITHFUL God has been.
I love to go back and see a ticket from my first high school football game. When I look at the ticket I am suddenly transported back to 1989 when, for the first time, I felt "grown up" being allowed to attend a high school football game.
There is the letter from my BFF written in 8th grade that tells me we are going to be "Friends Forever".  Although we are no longer BFF's we are still great friends who keep in contact, and I get to visit her at least once a year….she is my eye doctor.  🙂
The poem that another friend and I wrote to our high school crushes is also saved. In it, we declare our unwavering love and devotion to the two dudes we thought hung the moon. We vowed to adore, and cherish them until our dying day. I am pretty sure looking back at those crushes now, we are both GRATEFUL we moved on.  🙂
The name tag from my very first job at KFC is another treasure. I LOVED that job. It provided all through high school and college. I learned a valuable work ethic, and I also learned I was not made to work with the public, THUS I was moved to the back kitchen after about a week, where I made biscuits, mashed potatoes, and other side items for 4 years. The people I met and the experiences I had are some of my best memories. It is by far the most favorite job I have ever had.
Tucked WAY down deep is the Thanksgiving place card my sister made when she was about 8 years old. Each family member had their own personal name card to tell them where to sit. Though crudely made, and frail from age, I am reminded of the happiness we felt being surrounded by our family during the holidays. Many have moved on now, and our gatherings are much smaller, but the love and joy still remain.
Given yesterday's news of the Passing of Nancy Reagan, I am reminded of the "Just Say No" T-shirt at the very bottom.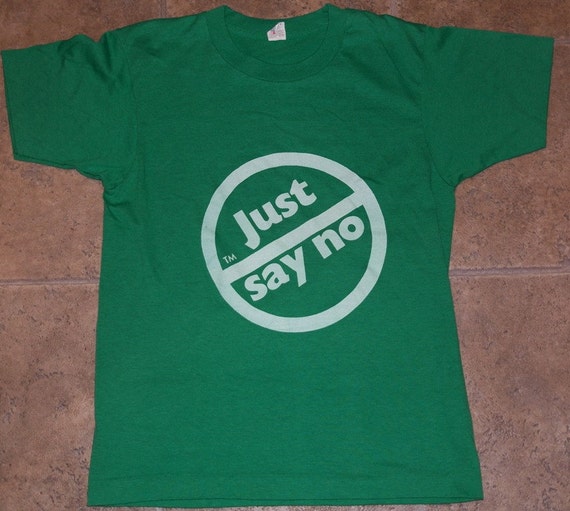 How excited  I was to receive it when I joined this "SPECIAL" club back in the early 80's.  I honestly thought I was the coolest kid in school. (Well, let's face it… I was)
The box is filled with many more items that many folks would consider trash. To me though, they are priceless treasures. Each one a memory of yesterday. Every so often, I take them out and I get a little misty eyed, but I always smile.
Hold on to the small things friends.  Time moves fast, and before we know it, the small things are all we are going to have to remember.