Isn't it funny how one little word can totally embody what you are going through at this EXACT moment?  The word Nerve offered today in the Daily Prompt does just that.
"To brace oneself mentally to face a demanding situation"
Webster's Dictonary
At some point in our life's we are going to be faced with situations that require a little more of us then we think we can give. A task looms before us in a monstrous way, and it is going to take every ounce of our energy, bravery, and yes, our nerve.
I am an extrovert by nature. I LOVE being social, talking, and NEVER shy away from being in the spotlight. It makes my heart sing to be surrounded by people, especially those I know and love.
Doing things on my own is usually difficult for me. I miss the companionship, and the security of knowing that someone is there. Don't get me wrong, I do all kinds of things by myself…
Go to the Movies
Eat at Restaurants
Go out of town shopping
Those things while, more fun with friends are manageable. There is very little to no risk involved in going alone.
If you have read my Blog for any length of time then you know that I love to hike. The mountains are definitely my happy place. I am out there most weekends huffing and puffing as I climb to some of the most beautiful summits. I have even committed to hiking the Appalachian Trail in a couple of years.
I have never hiked alone.
NEVER
There has always been someone to go with, a group hiking together.
This weekend I attempt my hardest hike….ALONE.
Everyone is busy this weekend.
EVERYONE
My destination is Mt. LeConte. The third highest peak in the Great Smoky Mountains at 6,593 ft. There are 5 ways to get to the top of LeConte, and this year I set a goal to hike all 5 trails to the top.
This Saturday, I am attempting the shortest route up, which is just a little over 5 miles. After the first 2.5 the trail narrows and is a continuous climb to the top. In some places the trail is inching around the mountain and there are cables to help you brace yourself as you walk.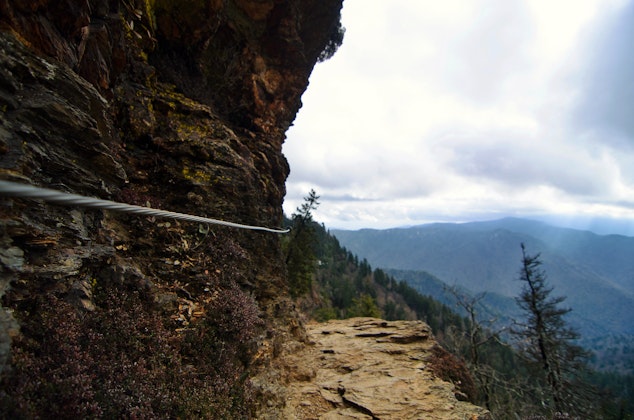 It is a difficult trail with a companion. Going alone…..I can only imagine.
I could easily put it off until the next weekend, but why?  Doing so would make me a slave to my fear. I am determined that I will overcome my fears.
So Friday Morning I set off on a grand adventure.
ALONE
I am anxious, nervous, and just a little apprehensive, but I am also excited, giddy, and anticipating the most thrilling day ever.
When I summit and this is my view
It will ALL be worth it.
So, I'm mustering up my nerve, lacing up my boots, and heading out.
Oh the things I can do… ON MY OWN!