Isn't it funny how you can see something 100 times and it never means anything, but on the 101st time you watch it… you are like…
WOW! WHERE did THAT come from?
That is exactly what happened this past weekend. I had been online reading through some Facebook post in my Hike The Smokies group, when I started feeling really down. While I have accomplished quiet a bit in the past 2 months, I am still working up to some long loop hikes. I get so discouraged because I am slower then most people. My little legs can only go so fast, so I am usually passed by and left behind.
Many of my friends accomplished some pretty difficult loop hikes this weekend, and while I was totally cheering them on in their accomplishments, I was starting to feel a little sorry for myself.
"I'll never get the miles in they get in a day."
"Stupid short legs!"
As I was scrolling through Facebook I came across a video I had seen at least 100 times. The video was of Inky Johnson, a former player for my beloved University of Tennessee Vols football team. In September of 2006, a routine tackle turned into a life changing event for Inky. He suffered severe nerve damage and was told he would never again play the sport he loved.
Instead of being angry, frustrated, bitter, or even depressed, Inky became inspired.
Inky discovered that the process was way more important then the product.
In the video, Inky starts speaking about where he came from. He tells of his struggle early on in life growing up in poverty in the heart of Atlanta. Living in a small house with 14 other people, he set his sights on the NFL. He wanted to be able to provide for his mother, so she would never have to work and sacrifice for him again.
He talks of the long hours he put in starting at the age of 7. He pushed himself, working long into the night each day to achieve his goal. It wasn't easy. Sure it would have been much easier for him to quit, but he knew that without hard work, his dream would not happen.
Inky explains that the reason many of us quit is because we don't take pride in what we are doing. If we get tired… we stop.  If we get bored… we stop. If it gets too tough.. we stop.  We stop because we are selfish and make it all about us.
OUCH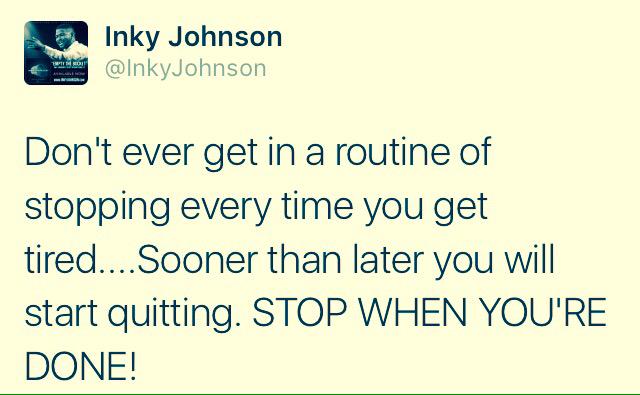 He knew he couldn't quit. He had dreams. BIG dreams.  He wanted something better not just for himself, but for his mother who had given so much for him. If he quit he was not only failing himself, but those who had invested in and sacrificed so much for him.
After his injury Inky realized the end result was NOT what life is about. It is about the journey, the Process. It's how hard you keep pushing when you face something bigger then you. It's looking up at the mountain you have to climb and not turning back, but  putting your feet one in front of the other and beginning  the climb up.
I have not encountered the struggles in life Inky has faced, but I have had big dreams that I have quit on because it just got too hard. Frustration, self doubt, and fear, all took over. I was more concerned about the product then I was the process. I made things about me, and my own ability.
So finally, after watching this for the 101st time, I got the message.
IT IS BIGGER THAN ME.
So my legs are short and I can't go as fast as other hikers or cover the distances they cover in the same amount of time….does that mean I have to quit?
Sure, I don't have the same stamina as some other hikers. Does that mean I never lace up my boots again?
NO.
The process is so much more important.
Through the process I am learning that I can't accomplish things of my own ability. Sometimes I have to push past the frustration, the pain, and the desire to quit.
IT IS BIGGER THAN ME.
I thank you all for going on this journey with me. I appreciate all the kind words and encouragement I get from you. Each and every day I am humbled, inspired and encouraged by you.  You have all been a part of the Process.
PLEASE take the time to watch this video. I PROMISE you won't be disappointed. Maybe there is something in it you need to hear.
Just remember….. the PROCESS is more important then the PRODUCT. Don't quit. Don't give up. Don't give in. And NEVER forget…..
IT IS BIGGER THAN YOU