I have absolutly ZERO creative skills.
Zilch.
Nada.
NOTHING.
The thought of having to create, decorate, or shape something into being causes me to have a panic attack.  
I just can't do it.
My mother, on  the other hand, is the most creative person I know.  She can take a big ball of Yarn and create something like this…..
She makes me the most glorious hats of splendid colors and styles.  I totally relish in each and every one she makes me.  Many a time she has tried to teach me to knit or crochet, only to have her left frustrated and me in tears.  While she creates beauty, my creations tend to look like this.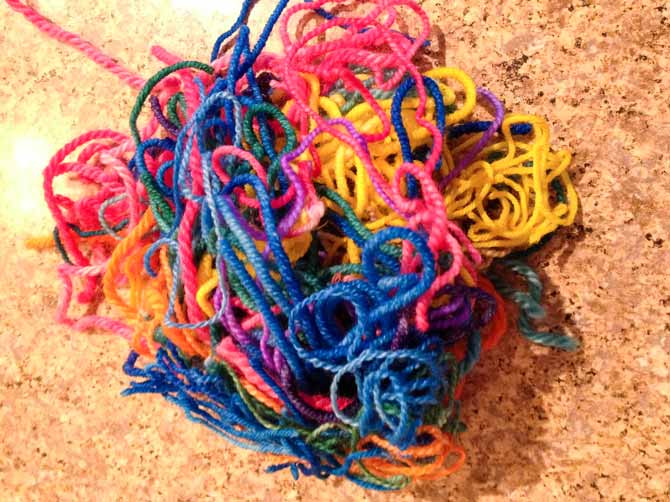 A big ole tangled mess.
Sometimes my life can be like the above ball of tangled yarn.  Life comes at me hard, and I get stressed and just like that…. everything turns to chaos.
No matter how hard I try to untangle the yarn of my life it seems I just keep making the mess larger and more complicated.  I make such a mess, that finally, I just give up and try to hide it. I mean… I don't want people to know I am a big ole, knotted ball of unusable yarn!
But any good knitter or crocheter knows that if you work hard enough, the tangles will come out and the yarn will once again be usable. It is still perfectly good yarn.  It just has a few kinks in it.
William Shakespeare must have known all about tangled yarn because he once wisely said,  "The web of our life is of a mingled yarn, good and ill together."
Somehow we have gotten the idea that our lives are supposed to be perfect, with no flaws or tangles.  We get it in our heads that if we reveal what a mess we truly are,  people will run away from us and we will be forever shunned.  So we hide our tangled mess away, praying that no one will notice.  We display only the good, and then we fake it.
But we shouldn't be so quick to hide our flaws.  It is through the mess, and the frustration that we truly blossom into something beautiful.
Each and every stupid mess I have gotten into, each and every scar I wear because someone hurt me, each and every poor decision I have made, are all a part of who I am. Without them…. I would not be me, and my story would not be beautiful.
Yes.  I make unwise decisions.  I trust people I sometimes shouldn't. I am rash and overreact…. A LOT.  Sometimes I am so incredibly afraid, that I can't make myself get out of bed in the mornings.  I make situations into things they aren't. My words are sometimes so blunt, they cut like daggers into the very people I love. I have failed to live up to my potential, and I am lazy and insecure.
Sometimes I feel so unlovable. If you saw what I see…. you wouldn't love me either.
But that is all a lie.
See, we all have messes we are trying to hide. Somewhere deep inside the closet of your mind, you have a tangled heap of yarn that you don't want anyone to see.  You think that if you bring it out, you will be rejected, talked about, and laughed at.
But what if you brought it out?  What if you just laid it all on the table for everyone to see? What if the VERY thing you are trying to hide, is the VERY thing I need to see? Your tangled mess may be the one thing I need to help me get the tangles out of my own life.
Friend, you are beautiful.  Yes, I am talking to you reading this right now.  Some of you I know, but most of you I don't.  But I do know that you are beautiful.  I know that no matter the how tangled the mess in your in your life, how big the knots are, and how deep your scares, you are stunning.  They tell your story, and they show that despite EVERYTHING, you have survived.
They make you who you are.
Perfection is not a real thing.  Deep inside we are all a tangled mess. But despite them all, we are beautiful.  Our big bundles of ugly don't have to be a cause of shame or sadness.  Perhaps they can be used to help someone else. Maybe it's time we start working on bringing  them out of the closet and work on getting the kinks out.
I'll start helping you with your knots, it you'll help me with mine.